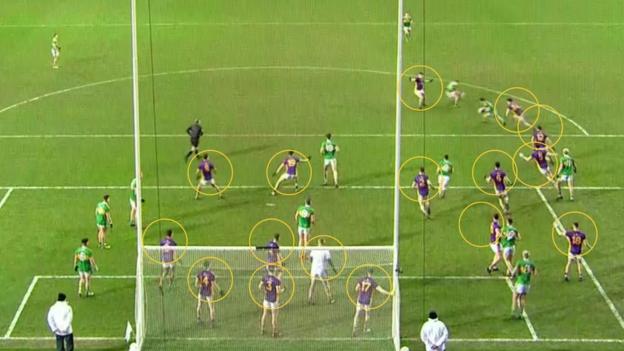 Glen have decided to appeal the result of Sunday's controversial All-Ireland Club Final with Kilmacud Crokes.
Kilmacud Crokes beat Glen 1-11 to 1-9 but video shows the Dublin club had 16 players in their defence at the finish.
The Derry and Ulster champions were chasing a last-gasp winning goal against the massed Crokes defence.
A meeting took place on Tuesday where the club decided to lodge an appeal with the GAA.
"Watty Graham's GAC will lodge an objection to the CCCC (Central Competitions Control Committee) in relation to the outcome of last Sunday's All-Ireland club final," read a club statement.
Glen had until Wednesday afternoon at 15:30 GMT to lodge a formal appeal on the issue.
The GAA told Glen it would not review the closing minutes of Sunday's final unless the Derry club raised "an official objection".
The penalties for breaching Rule 6.44 include the awarding of the game to the opposing team, for the game to be replayed, or a fine.
In his post-match interview on Sunday, Glen manager Malachy O'Rourke said Kilmacud having 16 players in front of their goal during the final moments of Sunday's decider was "brushed aside a wee bit".
"It shouldn't have happened," O'Rourke told BBC Sport Northern Ireland.
"I can't obviously be sure on this but we felt for the last 45 when everybody was packed into the goalmouth that they had 16 players on the field and it was sort of brushed aside a wee bit."
When asked if he had any concerns about the conclusion to the game following the conclusion of the final, Kilmacud manager Robbie Brennan replied: "No".
Brennan said Crokes full-forward Dara Mullin was "killing the clock" as he walked slowly off the pitch - although it was Paul Mannion walking off - with Mullin in fact stationed on the goalline during the final seconds as Glen chased a winning goal.
And 17 Kilmacud players appear are on the pitch during the last play as Mannion slowly walks towards the dugout area after being substituted.
A potential replay could be complicated by the start of the National Football League on Saturday, with several players from both sides expected to be in action for Derry and Dublin, while Crokes forward Shane Walsh represents Galway.