Pubs in England and Wales are "vanishing" at a rate of more than two per day, new figures show.
The number of pubs shutting their doors for good increased sharply in the second quarter of the year, 50% more than during the first three months of 2023.
A total of 383 pubs have either been demolished and/or redeveloped, according to data from commercial real estate intelligence firm Altus Group.
This is nearly as high as the figure for the whole of 2022, which saw 386 pubs lost for good.
There were 52 pubs lost in Wales during the first six months of the year - more than in any English region.
London and the North West of England lost 46 pubs each.
The British Beer and Pub Association has called for an extension of business rates relief to prevent further permanent closures.
Pubs currently get a 75% business rate discount for the 2023/2024 tax year, up to a cap of £110,000 per business.
However, the discount is only set to last until the end of the current financial year.
Business rates are also expected to rise next April, which industry experts warn could add more than 6% to bills next year.
Read more:
JD Wetherspoon on course for record year despite pub closures
Running a pub 'worse now than during COVID'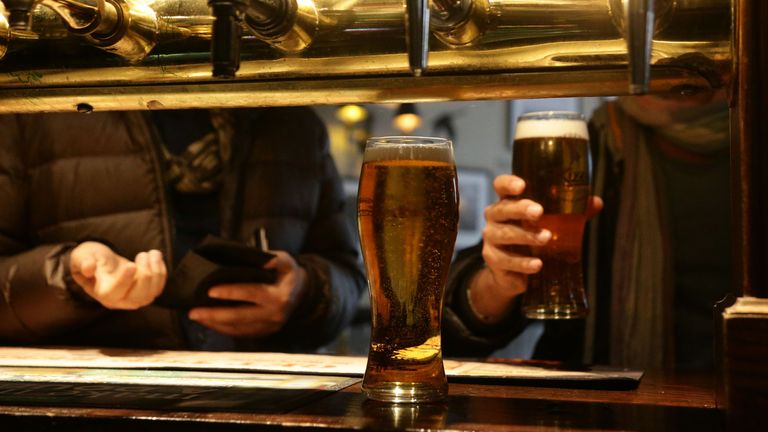 Chief executive of the British Beer and Pub Association, Emma McClarkin, said the figures "indicate what's to come" without an extension to business rates relief.
"Since 2020 our pubs have faced a myriad of challenges, from forced closures to an ongoing energy crisis and for many the looming increase in business rates early next year will be the last straw," she said.
"Under the right conditions, our pubs have proven they are resilient, standing strong for centuries, but we really need the government to lay foundations to ensure pubs can serve their communities now and in the future."
A spokesperson for the Welsh government said the closures were of "significant concern" and it was "monitoring the situation closely".
"We have put in place a package of support that includes over £140m to extend our non-domestic rates relief for retail, leisure and hospitality ratepayers in Wales," the spokesperson added.
"However, the UK Government also needs to use the levers at its disposal to take further urgent steps to target gaps in support, particularly to boost businesses who are also feeling the impacts of rising costs."
A Treasury spokesperson said the government recognises the "challenges pubs face".
"We have provided hundreds of billions of pounds of support during the pandemic and since Putin's invasion of Ukraine, including £13.6 billion in business rates relief which slash bills for pubs by 75%, energy bills protection and the Brexit Pubs Guarantee keeping alcohol duty on pints down," the spokesperson said.
"We remain committed to delivering on the now-concluded business rates review, which cuts the average bill in every English region and helps level the playing field for high streets and town centres through more frequent property revaluations, caps to rising bills and ensuring that businesses benefit immediately from bill decreases."