A Scottish amateur football club is urging Elon Musk to join the squad after jokingly accusing the billionaire of "stealing" the team's logo.
Haddington Town AFC has pointed the similarities between the football club's crest and a logo for SpaceX, which is owned by the businessman.
Both feature the white outline of a goat within a circle on a darker background.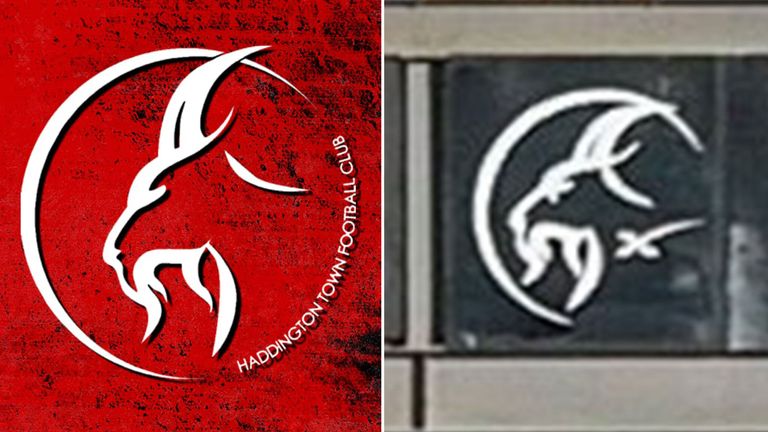 Posting on X, formerly known as Twitter and also owned by Musk, Haddington Town AFC joked that he had "stole" the badge, adding: "Give it back!"
A follow-up message read: "Our DMs are open Elon Musk. Come fund our new tracksuits."
SpaceX designs, manufactures and launches advanced rockets and spacecraft. Sky News has contacted the company for a comment.
Haddington Town AFC, based in East Lothian, was founded in 2019 and adopted the goat as its logo as the animal is synonymous with the town and has featured on its coat of arms for centuries.
Ryan Leishman, who coaches at the club and is in charge of its social media, logged on to X last week and was surprised to see around 20 notifications from mostly Americans highlighting the similarities between the two logos.
Mr Leishman said the team found it "hilarious" and have been having fun by mocking up a graphic naming the Tesla chief as the club's new owner.
In a post, the team joked: "The club are delighted to have Elon on board, the big man can't wait to get started. #MonTheGoats".
Mr Leishman told Sky News: "You're only going to get an opportunity to do something like this once or twice at an amateur club where things go a little bit viral."
Mr Leishman said someone slid into the club's DMs to say the SpaceX logo had been doing the rounds since early summer.
He added: "Yeah, well we've had this logo since 2019."
Read more:
Musk refuses to answer if his 'ignorance and ego' cost Ukrainian lives
Taiwan 'not for sale': Minister hits back at Elon Musk
Haddington Town AFC play in the Lothian and Edinburgh Amateur Football Association (LEAFA) Sunday Morning Premier Division.
Mr Leishman said the squad would happily welcome Musk on the pitch.
He said: "Elon Musk seems like he would be interested in anything when he gets going.
"He's about 230lbs to 240lbs and he's 6ft-plus. If you get him coached, he would be a very good striker."
Mr Leishman said the club is always on the lookout for investment and highlighted the team's good work on and off the pitch in regards to its charity fundraising and allegiance with Show Racism the Red Card.
He added: "Even though all the attention is fun and we're having a good time with it, investment from Elon Musk doesn't matter as long as this club keeps its morals on and off the pitch."
Mr Leishman joked that the club are "not planning" to sue Musk.
He added: "We've got his back. If he wants to fight [Mark] Zuckerberg, we're in his corner."